This is the third year in a row where we've published our client survey result. One of our core values is Continuous Improvement, which is why this survey is important to us. It helps us determine where improvements are needed, and it also reminds us to celebrate our successes.
Here are our 2020 client survey results:
Are our clients willing to recommend us to other companies they know?
Most of our growth has come from client referrals, so our clients' happiness means a lot to us.  We're thrilled that we didn't just match the 9.1 result we got in 2019, we exceeded it with an overall recommendation rate of 9.4 in 2020.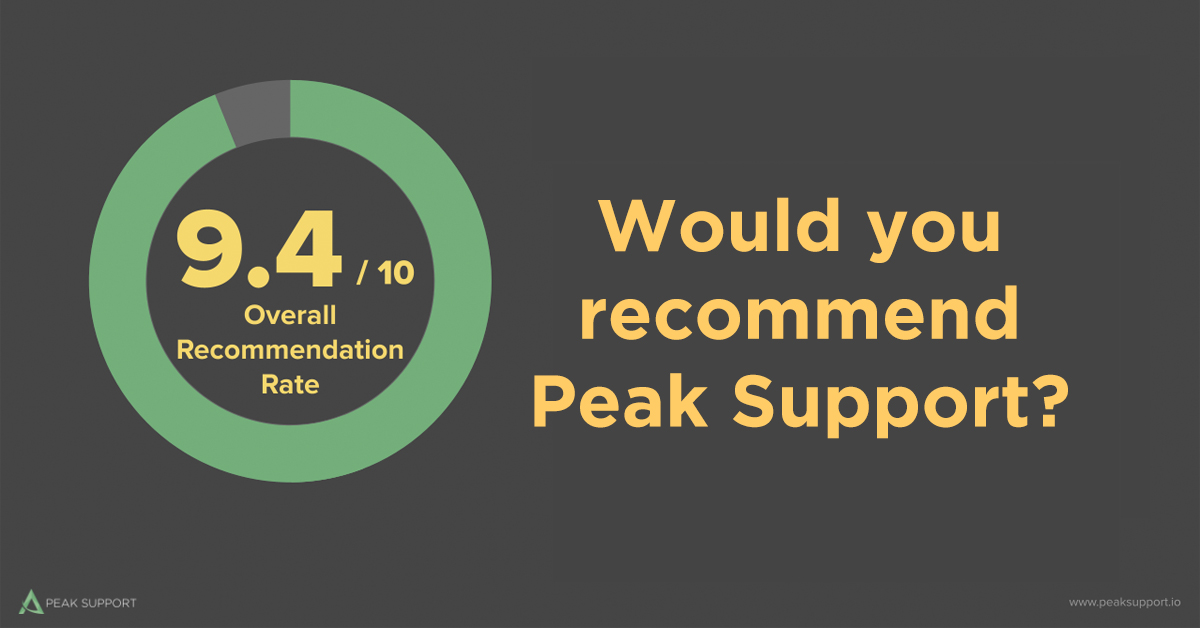 Here are a few of the things our clients have said about us in their G2 reviews:
"Do your research to decide if you want to outsource—but if you do, Peak Support is a no-brainer. Great quality work, fair cost, and highly attentive account management." 
"You couldn't find a better partner than Peak Support. They will do the work to understand your business, and they strive and succeed at being your highest performing partner in achieving business critical metrics and objectives." 
What rating do our clients give their Peak Support engagement?
We also survey our clients about their overall experience with Peak Support. In 2020, we scored a 4.7 out of 5, up from 4.5 the year before.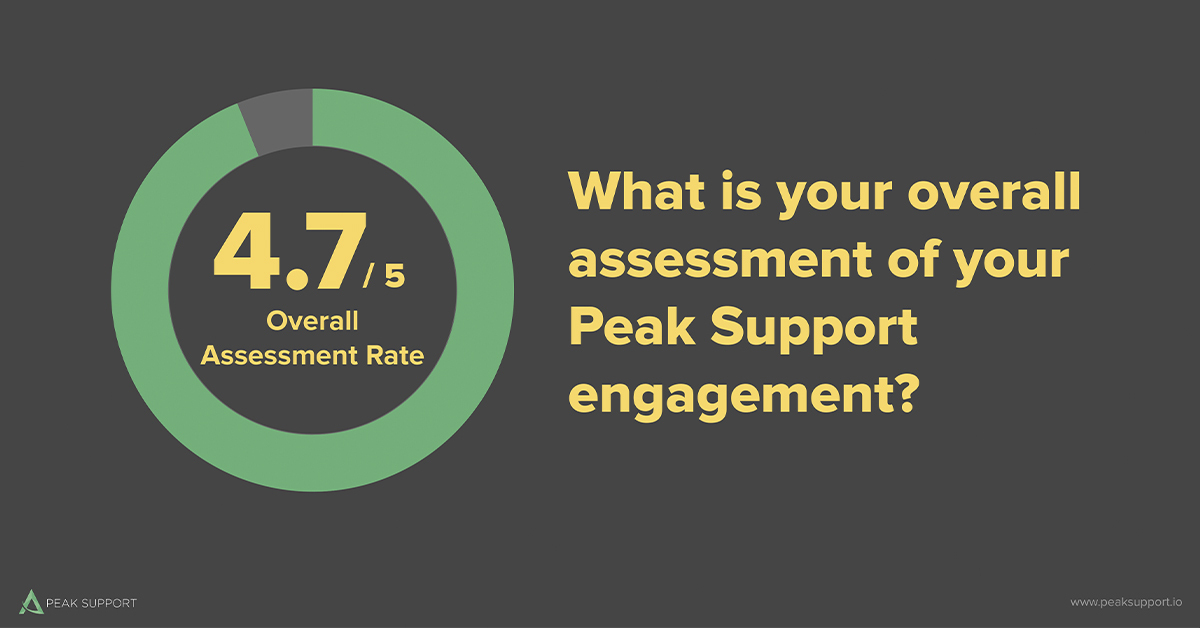 Here are a few of the things our clients have said:
"Peak does an amazing job at finding additional resources on their own to further their understanding of our brand. They dive into our company-wide Slack  for any news they might have missed during normal business hours, they review how we respond to customers, and adapt their response to the new found information." 
"The people and culture make your team special. You guys no doubt work extremely hard for us, and I thank you all for everything you do. I truly love working with you all." 
Client Feedback: Value, Culture, and Quality
We also ask our clients if our service is high quality, if they get good value for the price, and if Peak Support is aligned with their culture. This year, we scored 4.4 out of 5 for quality, 4.5 out of 5 for the quality of service in relationship to the price, and 4.6 out of 5 for culture – matching the results we achieved last year.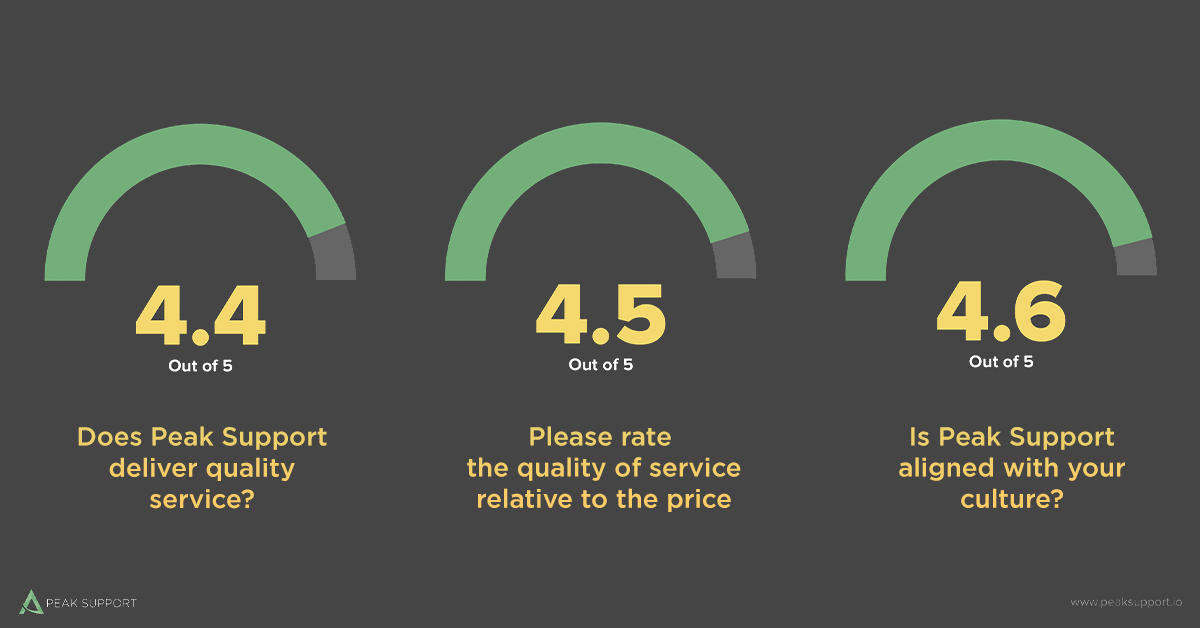 Here are a few of the things our clients said:
"Kath, Elvie, and Nico have shifted from contractor (at the start) to team member (quickly after) and most recently to cultural champions. Their response to any situation is remarkable and exemplary, and their ability to build energy in Slack – from across the world, is second to none. They truly live our values!" 
"Our PS team members are reliable and go above and beyond. There is clearly a strong culture, and our PS team members seem engaged with our brand, product, and internal team." 
Beyond the Basics: Proactiveness, Communication & Data
Next, we dig into specifics. We ask our clients whether we're proactive, communicate well, and use data to solve their problems.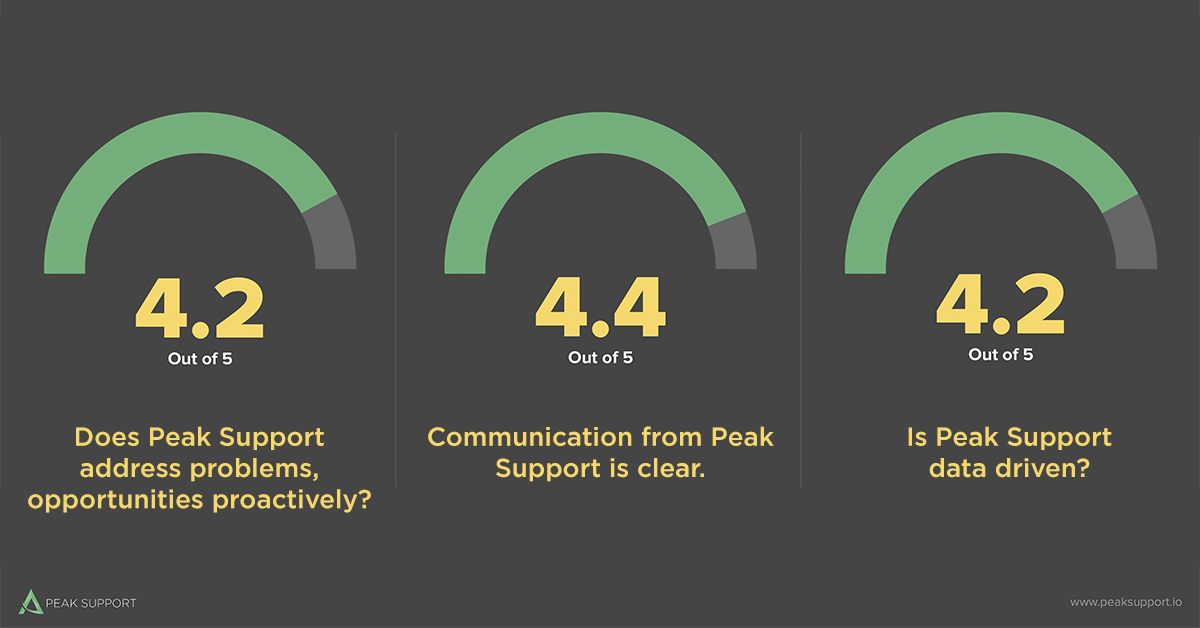 Here are a few of the things our clients said:
"Peak Support is an extension to Zendesk. The team works seamlessly through Zendesk whether it be creating macros, processes, retrieving analytics, understanding the data and helping make decisions for better outcomes for our customers and to make our team more efficient." 
"I think our Peak Support team does a great job at communication and being proactive about issues or blockers they encounter." 
"I appreciate all of the recommendations and ideas that come up regarding improving workflows and Zendesk organization." 
Our client survey doesn't only help us map out our future goals, but it also allows us to connect more to our clients and understand their needs better. All of our clients' responses are carefully evaluated, and we work to improve on every piece of feedback. We deeply appreciate our clients for the valuable feedback they provide us. We look forward to many more years of conquering hurdles and celebrating successes together.
If you would like to learn more about the array of services we offer, contact us now.