Team Member Survey Results for 2021
Our end-of-year employee survey results are in, and we are excited to share the results. Part of our commitment to Continuous Improvement is making sure that we are celebrating the areas we got right and acknowledging the areas where there is room for improvement.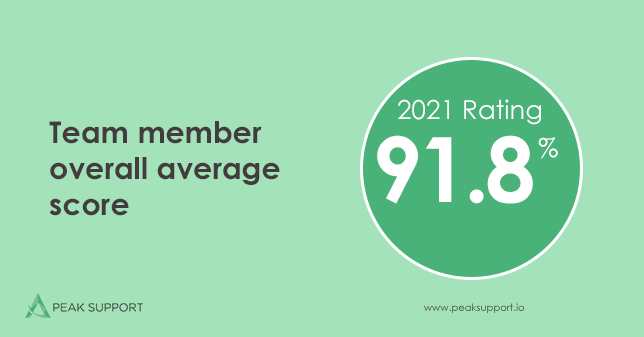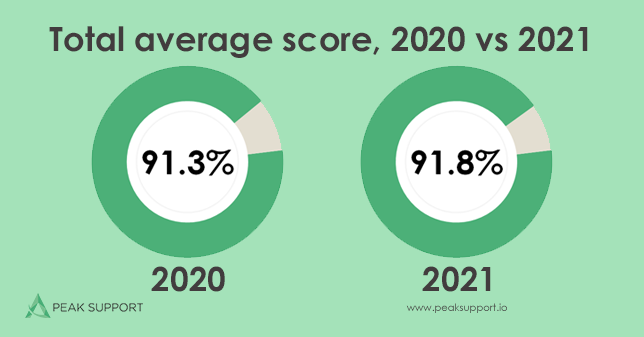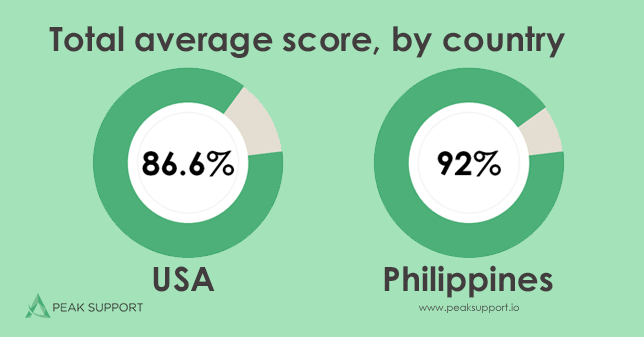 Here are our 2022 Employee Feedback results!
Are You Satisfied at Peak Support and How Likely Are Our Employees to Recommend Peak Support to Other Colleagues?
Beginning with overall satisfaction, we asked Peak Support employees about their satisfaction levels as well as the likelihood of them recommending Peak Support to others. We received a 9.3 out of 10 in employee satisfaction, which is slightly higher than the 9.0 of 10 we received the previous year. We are happy to see this number go up! It is important to us that our employees are fulfilled in the work they do as each role at Peak Support is significant in accomplishing our mission!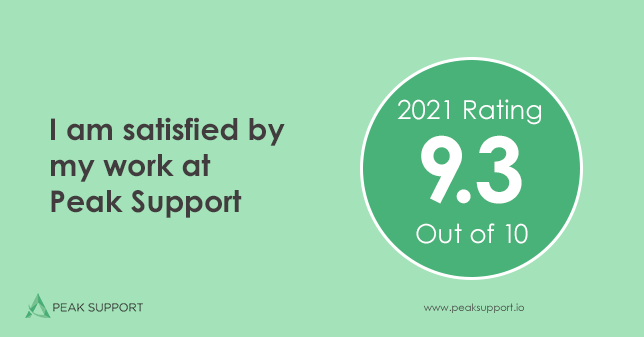 Peak Support received a high score of 9.5 out of 10 for our team's likelihood of recommending Peak Support to colleagues. This is also an increase compared to 2020's score of 9.3. We receive a high number of referrals from employees to our talent team, which has helped us hire the great people we need for our new and growing clients!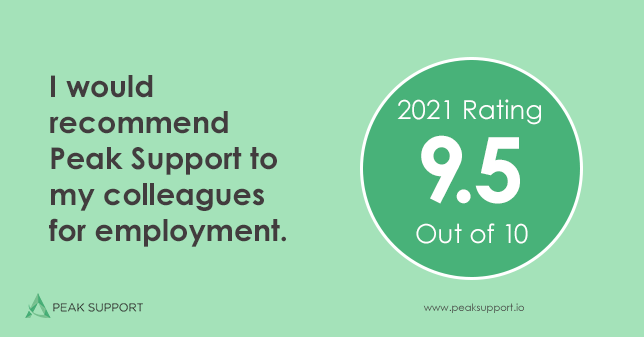 Do Peak Support Employees Feel That They Have Enough Professional Growth Opportunities?
We received a 9.1 out of 10 in this category which is a few points higher compared to previous years. Peak Support offers promotions frequently and we have a dedicated "Promotions" Slack channel where we celebrate all the upward movement on our teams! While we hire internally and externally for all our leadership positions – we love internal Team Members getting a chance to move up!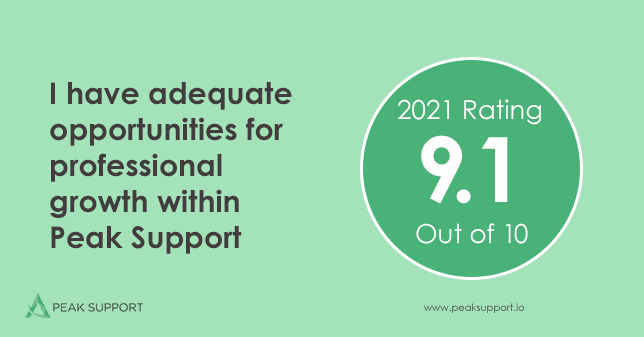 Do Peak Support Employees Have Friends at Work and Feel Like Their Ideas and Opinions Count?
We are pleased to announce that our ratings in both categories have increased. Peak Support employees gave a 9.3 rating on feeling like they have friends at work and a 9.5 rating in feeling like their ideas and opinions matter at Peak Support. It is our goal to promote an environment where people are excited to show up to work, and where everyone has a seat at the table regarding how we operate and get better.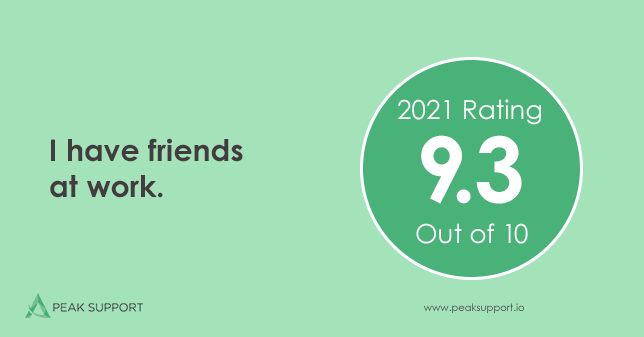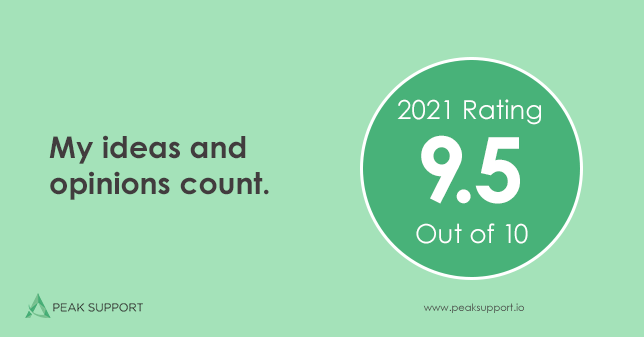 Do Peak Support Employees Feel Like Clients Respect Them?
Employees gave a 9.4 rating which is slightly higher than last year's rating. Our relationships with clients are a critical part of maintaining our success at Peak Support. One of our guiding principles is that we work with "clients we believe in" and ensuring that we work with clients who will treat our teams with respect is a non-negotiable part of our sales process.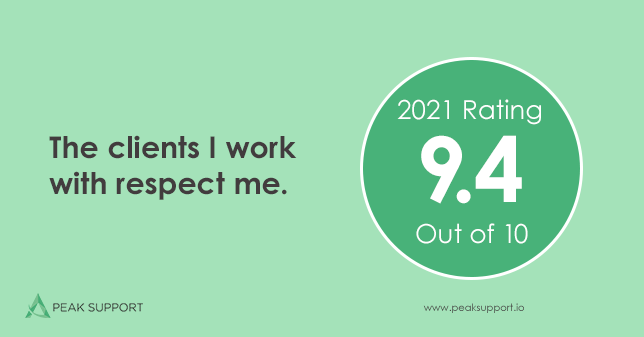 Does The Management Team Communicate Well with the Rest of the Organization?
Our rating in efficient management communication has gone up compared to previous year's ratings. We received a 9.3 rating. Our employees are a massive reason for the success of Peak Support, they ARE Peak Support. We are constantly seeking new ways to improve and do right by our team. This survey allows us to analyze areas where we can improve and assess the qualities our team believes makes their experience a positive one.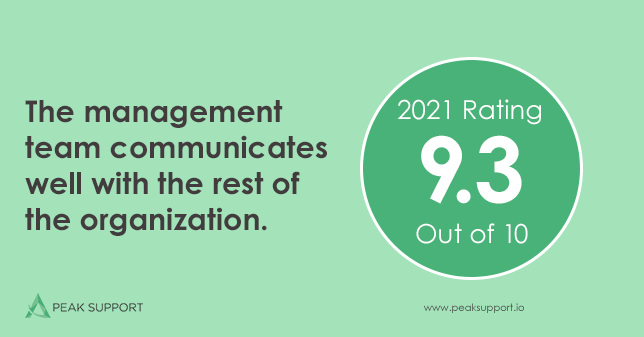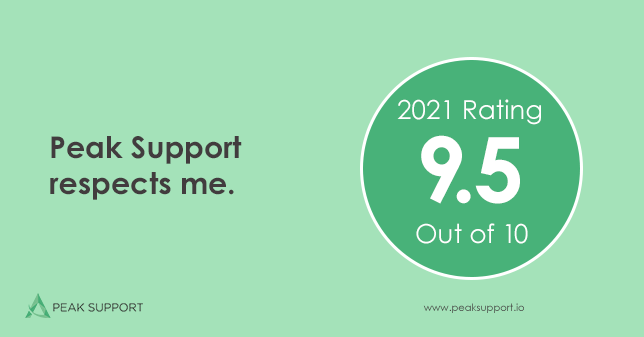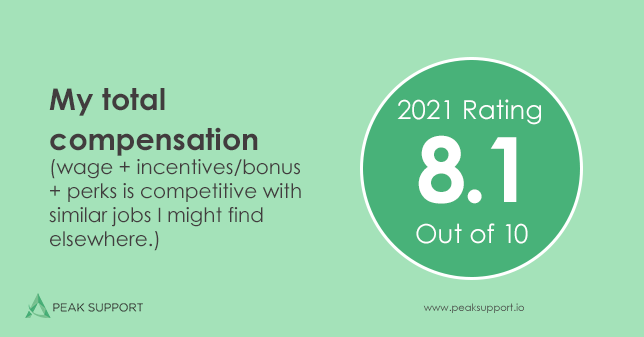 Our team at Peak Support is crucial to our success! We owe it to our team members to show Continuous Improvement. We are dedicated to the satisfaction of our team and look forward to applying our feedback in 2022 and beyond.