Nobody's perfect. It's a phrase we hear often throughout life. Whether it be from a parent or teacher, or maybe a significant other or friend. No matter the case everyone's, essentially, expressing the same thing: we all have room for improvement.
That sentiment tends to ring true for most aspects of life and work. If LeBron James still practices free-throws, then there's probably something in your work life you could improve upon, too. That said, most of us don't have jobs where millions of people tune in to watch, and scrutinize, our performance like Mr. James does.
So, how can the rest of us be thoughtful about our performance and find areas we can improve on? The answer is Quality Assurance.
What is Quality Assurance for Customer Service?
Quality Assurance refers to all aspects of performance that can't be quantified by your helpdesk software.
QA customer service systems and analysis allow you to offer and ensure the highest standard of customer satisfaction by evaluating agents and quality control. Using a customer quality assurance approach, you can detect issues and enhance your best practice solutions.
Your helpdesk dashboard can't tell you whether your agents are using the right brand voice; evaluate their grammar; identify whether they're using the correct internal processes; or provide an assessment of how well they addressed the customer's problem. That's what a QA program is for.
QA is also useful for onboarding and coaching new agents on best practices and expectations for their role in your organization. By putting their tickets through your QA system, you can see any potentially problematic behavior and get them on the right track from the very start.
Putting a QA process in place helps your whole company get on board with what your internal standards are for support. It forces you to have conversations around what things might go by the wayside in order to effectively meet other goals.
When you implement a QA procedure, it aids in creating a rubric through which you, and other teams, can understand your priorities when it comes to customers. That means you have a hierarchy of importance when considering projects to move forward with or leave behind.
QA for customer service teams allows you to to leverage both good and "bad" conversations as learning opportunities. When you are reviewing a ticket from such a straightforward, direct standpoint, it's easy to point out opportunities for growth. Some QA is even done blindly—without the context of who wrote the ticket—in order to truly keep constructive or positive insights limited to the content of the ticket.
QA is one of the most effective methods for ongoing training and continued quality.
8 Top Customer Service Quality Assurance Tools
Features of Quality Assurance Tools
When reviewing QA tools, there are several questions to ask. Most tools will include all of the features below, but the way that they include them is what matters. Understanding the philosophy each tool was built with can help determine which tool aligns with your organization's values and needs.
Integrations: Unless you really enjoy copy and pasting ticket URLs, you'll want to make sure your chosen Quality Assurance tools integrate with the help desk software that you're using.
Channel Specific features: You will need to be able to do QA on all of the channels that you offer customer service on. Some tools have specific features for different channels. Phone conversations can be particularly tedious to review if your QA tool doesn't retrieve and sort them for you.
Rubric Customization: What does quality mean to you? Every company has different ideas of what they might like to measure in their conversation reviews. How easy is it to customize the grading rubric?
Workflow Features: Quality assurance will only get done and become part of your culture if it's integrated into your workflow. How do agents see their scores? What tickets are chosen to be reviewed?
Analytics: Each tool will have a unique way of displaying the resulting data from the reviews. How easy is it to understand and act on? Is it agent-friendly?
Price: QA tools vary widely in cost structure and price. Evaluating which tool is best for you will also need to take the price into account.
QA Software to Consider
Klaus
Easy to set up, great UX, good for small and large teams.
Price: $13/user/month for unlimited reviews (Free users get 10 conversation reviews per week)
Integrates with Zendesk, Intercom, Aircall, Kustomer, Freshdesk, and Help Scout
Known for their impossibly cute cat mascot, Klaus also boasts a pretty great quality assurance tool. It's simple to set up and it's built specifically to become part of your daily workflow. Their advanced filters help you decide which conversations need to be reviewed and they offer several different ways to be notified about reviews including Slack notifications, email, and a Chrome extension.
More features of Klaus, according to their Quora answer here, include:
Create sophisticated filters to find conversations for review
Set and track goals for the number of reviews
Email notifications and reports
Roles for different review setups (peer review, review by manager, etc)
Customizable rating categories with weighting
Slack integration for delivering reviews
PlayVox
Best for teams that are looking to build out QA as part of a larger training initiative.
Pricing: Starting at $15/user/month for starting plans, up to $40/user/month for the full suite of
features.
Integrates with: Zendesk, Talkdesk, Salesforce, HelpShift, Freshdesk, RingCentral, Kustomer, LiveChat,
Intercom, HelpScout, Genesys Pure Engage
PlayVox extends the capabilities of quality assurance by grouping review features with training, coaching and a suite of performance management tools.
With these Quality Assurance tools, teams can create customized scorecards and provide real-time feedback across a variety of customer service channels. Conversations are filtered and automatically assigned to reviewers to ensure the right number of reviews each week. More expensive plans also include motivational tools, the option to track other KPIs (such as CSAT and reply time) alongside your QA stats and report on trends.
A few unique features that PlayVox offers are:
Create training quizzes based on QA feedback
Calibrate your QA team to see whose feedback doesn't align with the rest of the team
Personalized agent dashboards for relevant feedback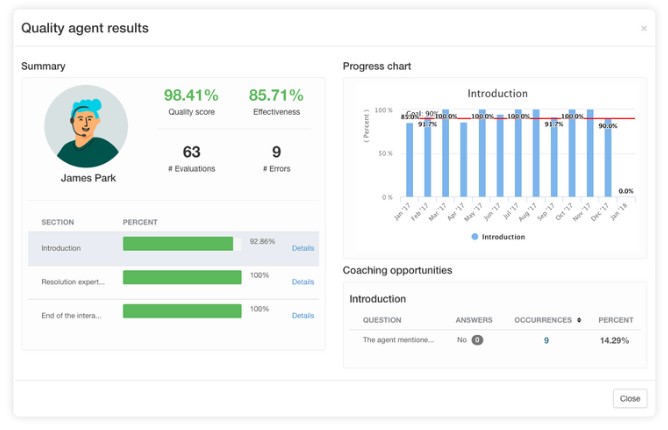 MaestroQA
Best for teams that want to understand how service quality impacts other customer experience related KPIs.
Pricing: Starts at $19/agent/month, workflow automations included in $29/agent/month plan, agent access to MaestroQA included in $39/month plan, Salesforce integration and advanced security features available in Enterprise plan (contact for pricing).
Integrates with: Zendesk, Salesforce (requires Enterprise plan), Intercom, Kustomer, Freshdesk, Genesys, Helpshift
MaestroQA includes customizable scorecards, workflow automations for sharing feedback and agent report cards. Their workflows are more tailored to manager and QA team led reviews rather than peer reviews.
Their standout feature is their extremely robust reporting. By bringing in CRM data, ticket tags, and other KPIs, managers can dive deep into their customer experience trends. They also cater to larger enterprises by offering advanced security features like single sign-on and audit logs.

Stella Connect
Best for teams that want to dig into negative customer experiences with deeper review.
Price: Contact for pricing
Integrations: Zendesk, Kustomer, Salesforce, Freshworks, Gladly, HelpShift, Gorgias, Talkdesk, Zapier,
Slack.
Stella Connect is an all in one customer feedback and quality management platform. This includes real-time QA across multiple channels.
They have a few interesting unique features. Stella Connect's QA platform is built around connecting internal reviews with actual customer feedback. When customers provide negative feedback, your team can automatically trigger a review to highlight discrepancies between customer feedback and internal quality checks.
It also offers "QA Light" which allows managers to annotate tickets and leave comments without performing a full review. Finally, reviewers can leave "takeaways" on each review as actionable feedback that is delivered to agents in a feed, so feedback is always top of mind.

Scorebuddy
Best for mid-sized teams looking to dive deep into their quality assurance feedback.
Price: Starts at $6.45/agent/month with a minimum of 25 users. Enterprise starting at
$15.60/agents/month.
Integrations (requires Elite plan): Five9, Talkdesk, Zendesk, Livezilla, Salesforce
Scorebuddy is a well-rounded QA platform that includes customizable scorecards, agent dashboards, a large number of pre-built reports and reviewer calibration tools. They are designed for middle to large customer support teams who want to build out a quality assurance program that results in actionable insights.
If you're considering Scorebuddy, look closely at the pricing and plans chart to make sure you're getting the features you need. Integrations are limited to the Elite plan, while Analytics is only available on Enterprise level plans.
Aprikot
Best for small teams looking for more QA structure, or larger teams looking for something simple.
Pricing: Free up to 10 users, $100/month for 11-50 users
Integrations: Zendesk, Help Scout
Aprikot offers a lightweight, easy to use Chrome extension that strives to get the whole team involved in reviewing conversations. You can either use their pre-configured rubrics or create your own.
They display their feedback in a really unique chart format that doesn't focus on "pass" or "fail" but rather strengths and opportunities. As an agent grows, their chart will evolve to be more well-rounded.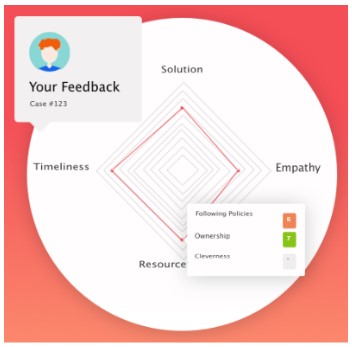 Summatti
Best for teams who want to try out new AI technology and have a lot of volume to review.
Pricing: Contact for pricing
Integrations: Salesforce, Aircall, ConnectWise, NICE, Genesys, Zendesk, ServiceNow, RingCentral, Five9
A unique addition to the list, Summatti is an AI-powered quality monitoring system. They use speech analytics to review 100% of all customer conversations. These conversations are then compared to established benchmarks to provide unbiased & contextual feedback to agents on their performance.
It's still an emerging tool, so information and reviews from current customers are difficult to come across. It's a good bet that we'll see more AI-based quality management in the future though!
Spreadsheets (Google Docs)
Best for small teams who are just starting with quality assurance.
Pricing: Free
Integrations: Can be used with Zapier to collect conversation information
We couldn't put together a list of QA tools without including The Original: spreadsheets! Almost every team starts off doing conversation reviews by copy and pasting ticket URLs in a spreadsheet and taking notes.
Smaller teams with relatively few conversations to review might find that spreadsheets are enough for them. However, at some point, teams will need more structure to their QA process. Plus, copying and pasting ticket information into a spreadsheet can eat up a lot of time.
Conclusion
There's no magic wand you can wave to get better. It takes hard work and dedication. It also takes insight. Whether it be free throws, or customer service, having the right tools for the job is important.
Deciding which QA tool is right for your customer service team can be tough. Hopefully, this guide will arm you with the information you need to start your own quality assurance program and choose the right tool. Ultimately, the software for you is the one that keeps your team on top of reviews and gathers the best insights. A full guide on Implementing QA including launching and implementing can be seen in our e-books as well.