When Jonathan Steiman, Bianca Lazaro, Judz Eronico, and Hazel Abijay decided to build a company together, they started by asking: what kind of company do we want to build? The answer – a company driven by its core values, with a culture of fairness, transparency, and accountability. A company where everyone feels comfortable speaking up and knows they will be treated with respect and dignity.
Even as we've scaled to more than 800 people, our culture has remained one of our biggest strengths. The result? When asked if they're satisfied with their work, on a scale of 1 to 10, half of our team members choose 10 and another 40% choose 8 or 9.
We haven't always used the terms diversity, equity, or inclusion to talk about culture at Peak Support. But a commitment to DEI has been part of Peak Support's DNA from the beginning.
In June 2020, in the wake of the murders of George Floyd, Ahmaud Arbery, and Breonna Taylor, we wrote a letter to our team about the Black Lives Matter movement. We knew that we needed to take more concrete steps to define what DEI means for Peak Support, and to make sure that our culture and our commitment to DEI stay strong as the company scales.
What we've done
Shortly after, we engaged Tai Dixon, a workplace culture and anti-racist leadership strategist, to help us think through next steps for Peak Support. Tai interviewed 12 employees across the U.S. and the Philippines, and then deployed a workplace culture survey, the results of which we're sharing here.
Next, we are holding a leadership training on what inclusive management means at Peak Support, and how we can make sure it's integrated deeply into our leadership and management practices at every level.
Other specific actions we have taken include:
Prioritized hiring a diverse team and promoting diverse leaders, including moving our US operations team under Philippines leadership
Encouraged team members to add pronouns to their Slack profiles, email signatures, Zoom accounts, LinkedIn, etc. After consultation with the team, we decided to encourage but not require this.
Provided a series of paid trainings on Transgender and Gender-Nonconforming Basics, while exploring other training options
Notes on the survey
The survey was comprehensive and included 60 questions in 9 topic areas. Based on the responses, Tai and her data analysis team divide the topic areas into three categories:
Strengths: Most topic areas were considered strengths: Management, Growth & Promotion, Culture, Diversity, Equity, and Professional Development
Needs Attention: Three areas – Professional Development, Compensation, and Inclusion – fell into this category
Needs Urgent Attention: No areas fell into this category
About 75% of our team in the Philippines and 50% of our team in the U.S. took the survey.
To avoid data overload, we haven't included every question in the Powerpoint Deck. Within each category, we chose representative questions that will give readers a sense of the responses.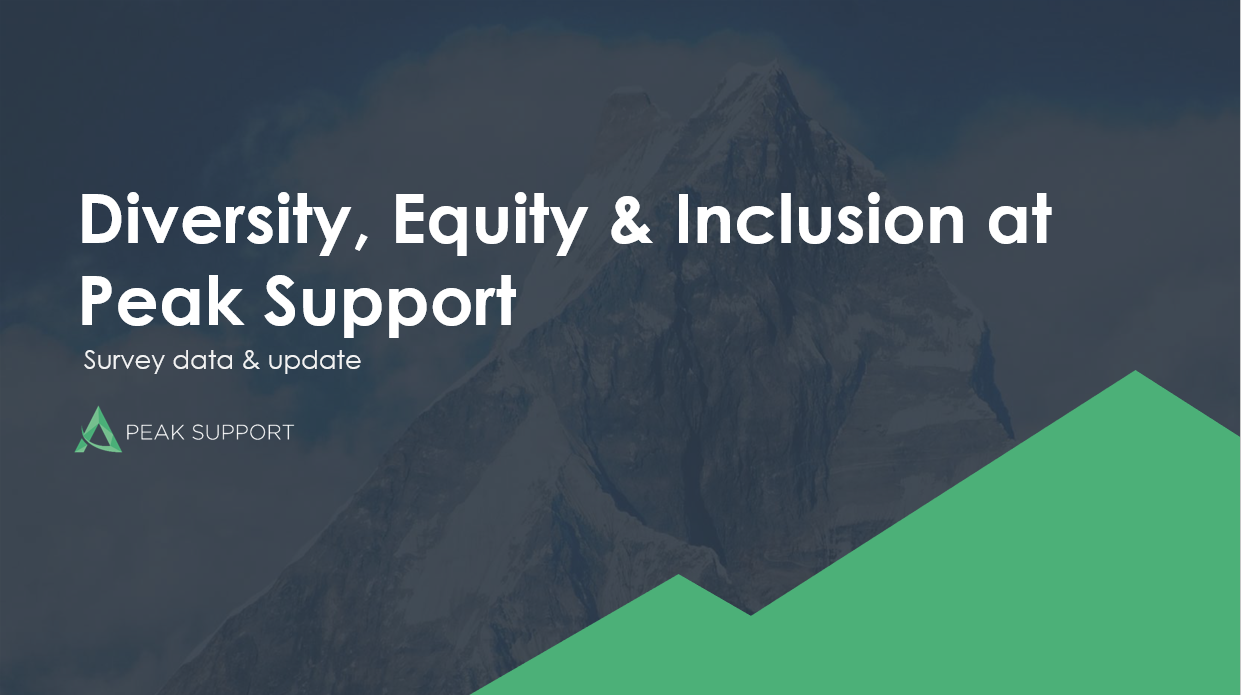 (*click image to be taken to full ppt deck*)
We welcome questions and feedback. Please reach out any time at hannah@peaksupport.io.